Red mood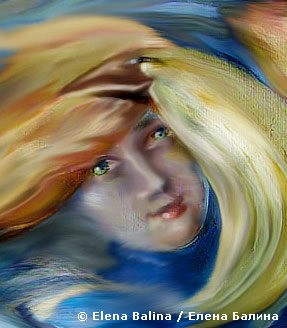 I jump from the steps of porch, and wind with an inherent only in it feeling of humor greets me, after throwing into the person the shock of my hair "red rogue" - overtakes mamin laughter. From this laughter inside begin to be spilled imps. They thus far carefully unglue sleepy eyes, gradually sort out by sharp hoofs, from this it becomes ridiculously and ticklish.
- Cho hair it dissolved, I turn around to the threatening, - squeamish shout and see usual man in usual dzhinsovke, nothing separately conservative. - it walks as witch...
Imps is to quiet, evaluate self-styled inquisitor. I know that not to smog to hold them, if they decide to to be naughty. So there is, oy something will be.
- I'm not witches, I'm simple man of knowledge. Please, you be carefully with similar expressions. Me it would not be desirable to cause harm to you. But many truly wise perished into the Middle Ages because of similar speeches.
Man slightly turns pale. In general imps simply easily hurt and constrained. It becomes them uncomfortably from the result of prank. My eyes squint, looking intently at unlucky Torkvemada.
- no, I do not love to cause evil. Better it will remove gravity from your soul, whom someone awkward on the ways of heart transmitted to you.
Imps are contented by the fact, as I solved problem, joyfully they stirred and prompted the intricate pass, which forced man amazed to smile, to shake by head and to begin to walk further.
I'm catching the autumnal transparency of day, passing through themselves the depth of sky, imps manage to pull out fluffs from the solar rays and is arranged by featherweight boom.
- give backpack to hold, - rather insolent low bass clearly belongs to someone young. This is it about my glorious denim knapsack!
- your gallantry deserves special reward, for sure it noted someone of my rogues - I hardly retain so that they would not be poured out out of the eyes. - from this minute and to the end of the day fate will toss up to you such situations, from which it is necessary to leave only with the aid of the end politeness and most improbable gallantry.
Young person to make off with the sportiveness of that borrowed in agile antelope, and after hurry on the balls of laughter my besenyata.
No, I'm not witches, but just they this do not know, but I'm only vaguely I surmise.
09.10.96