Diagram of the general layout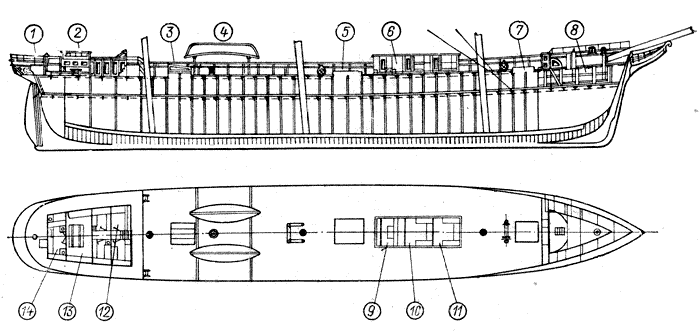 Diagram of the general layout - section on DP and plan of the upper deck.
From the sketch, executed by the chief designer of shipyard "Scott and Linton" of John renni.
1 - steering control and the post of autopilot on the quarter deck; fire buckets stood on the nose edge along the handrails;
2 - stern superstructure with the bright hatchway above the wardroom; in the nose section - tambour above the ladder; barrels with the salt beef here stood;
3, 5, 7 - cargo hatches; tvindechnoye space between the decks and hold under the lower deck stretched to entire length of vessel;
4 - rostrum with the whaleboats; subsequently here appeared the room, in which lived the boatswain, carpenter, sail master and cook;
6 - habitable room, on roof of which stood working boat;
8 - crew space of command under the tank; from the upper deck into the crew space they conducted two ladders with the tambours in it was onboard; on the tank, where was established the spire (natural- manual) of anchor gear, conducted ladder in DP;
9 - galley;
10 cabin of junior officers;
11 - cabin of students;
12 - canteen and storeroom;
13 - wardroom even three cabins of officers;
14 - the cabin of captain with the output into the wardroom and to the quarter deck - to the steering control.
upward to the menu