«ZAZ-965A Zaporozhets» (Russia 1960 Ц 1969)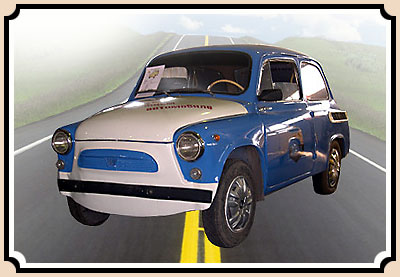 Number of places:
4
Speed the km/h:
90
Mass in the equipped state, kg:
650
Size of the tires:
5.20-13
Engine is the type:
four-cylinder, carburetor, overhead-valve 20 hp with 4000 r/min.
The working volume:
746 sme
Number of transfers:
4
Compression ratio:
6.5
Consumption of fuel of l/100 km:
7,3
Suspension:
the front independent torsion, rear spring
Length in the mm.:
3330
Width in the mm.:
1395
Height mm:
1450
The wheel base:
2023
Is designed on the basis of documentation Moscvich - 444. In 1962 it passed the modernization, in the course of which obtained the engine with a power of 887 cm., 27 hp, and a number of the modernized details, including characteristic molding to the sidewall and the additive "A" to index.
© firm "Dina", www.firma-dina.ru