«Stoewer» (Germany 1899)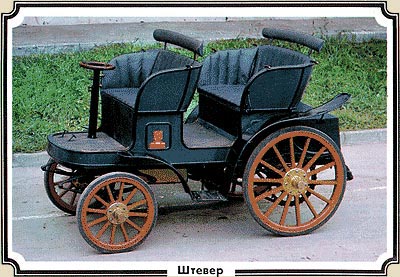 Model was produced from 1899 through 18901 g. The feature of design: the rear arrangement of engine, chain transmission to the driven wheels, continuous rubber tires.
Engine:
2-cylinder
Working volume:
2100 cm
3
Power:
6,5 hp
Gearbox:
3
Distance between axises:
1595 mm
Mass:
700 kg
Speed:
18 km/h
Body:
four-place
Designer:
Stoewer
A quantity of prepared machines is unknown. The sole preserved version of the first automobile of this model is restored and is exposed in the automobile division of Polytechnic museum (Moscow).
Photos: Y. Povolotskiy
Text: L. Shugurov
© "Planet", 1988