«Russo-Balt-K12/20» (Россия 1911)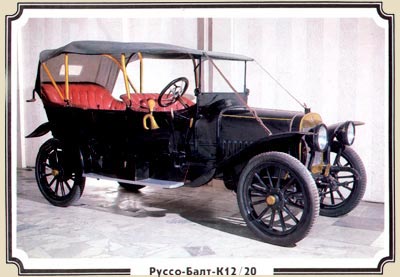 One of four passenger models, which were being let out from 1909 through 1915 by Russian-Baltic carriage plant in Riga. The feature of design: poured from the aluminum alloy crankcases and gearbox, steering wheel with five knitting needles, the suspension of rear wheels on the trichetvert'ellipticheskikh springs.
Engine:
4-cylinder
Working volume:
2211 cm
3
Power:
20 hp
Gearbox:
3
Distance between axises:
2855 mm
Mass:
1180 kg
Speed:
60 km/h
Body:
four-place
Type:
"torpedo"
Designer:
J. Pottera
Are prepared about 300 automobiles of this model. Machine is otrestavrirovana by institute NAMI and is exposed in the automobile division of polytechnic museum (Moscow). This - only "Rousso-Balt", who was preserved in entire peace to the present.
Photos: Y. Povolotskiy
Text: L. Shugurov
© "Planet", 1988