«Renault-10» (France 1928 )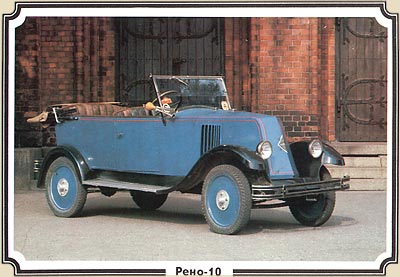 One of seven models, which was manufactured the plant "Renault" in 1928. The feature Of design: the located behind the engine radiator, differential with the spur gears, dyne-starter.
Engine:
4-cylinder
Working volume:
2116 cm
3
Power:
25 hp
Distance between axises:
2808 mm
Mass:
1400 kg
Speed:
90 km/h
Body:
pyatimestnyy
Type:
"torpedo".
A name of designer and a quantity of prepared machines are not established. Restorer and the keeper of machine - G. Goba, the member of club AAK (Riga).
Photos: Y. Povolotskiy
Text: L. Shugurov
© "Planet", 1988