«Peugeat-Quardilet-172R» (France 1923 )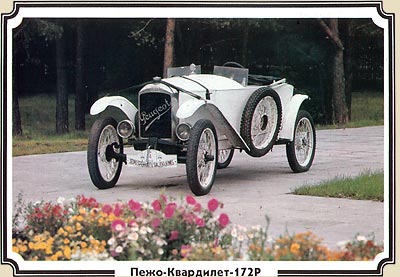 Small-capacity model was produced under the different indices from 1922 through 1930. The feature Of design: the absence of differential, worm main drive, gearbox in the block with the rear axle.
Engine:
4-cylinder
Working volume:
668 cm
3
Power:
9,5 hp
Gearbox:
3
Distance between axises:
2304 mm
Mass:
350 kg
Speed:
60 km/h
Body:
two-place
Type:
"rodster"
Designer:
J. Dyufren
Are prepared 3500 machines. The sole version of this model in our country restored V. Kirss, the chairman of club "Unik" (Tallin).
Photos: Y. Povolotskiy
Text: L. Shugurov
© "Planet", 1988