«NAMI-1» (———– 1929 )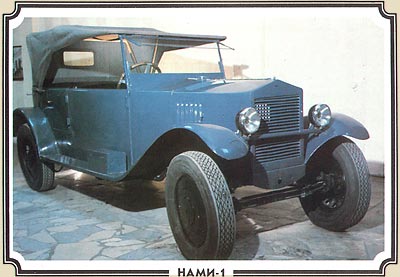 First Soviet Small-capacity, which was let out by plant "Spartacus" from 1927 through 1930. The feature Of design: the air engine cooling, the independent suspension of rear wheels, spinal type tubular frame.
Engine:
2-cylinder
Working volume:
1163 cm
3
Power:
22 hp
Gearbox:
3
Distance between axises:
2800 mm
Mass:
700 kg
Speed:
75 km/h
Body:
four-place
Type:
"Torpedo"
Designer:
K. Sharapov. Are prepared 403 machines. Of four preserved copies automobile є 107 was exploited up to 1970 it was restored by institute NAMI and now it is exposed in the automobile division of Polytechnic museum (Moscow).
Photos: Y. Povolotskiy
Text: L. Shugurov
© "Planet", 1988