«NAG» (Germany 1910)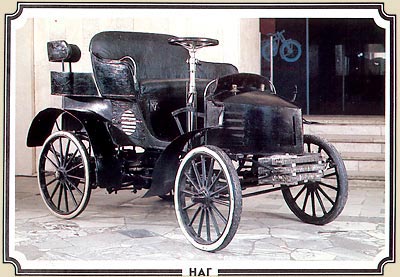 Machine (first model of this brand) was produced from 1901 through 1903. The feature Of design: the located from behind engine, united into the block with the gearbox and the main drive, serpentine type radiator.
Engine:
1-cylinder
Power:
6 horsepower
Gearbox:
2
Distance between axises:
1620 mm
Mass:
420 kg
Speed:
35 km/h
Body:
four-place, type "tonno"
Designer:
A. Klingenberg
There are prepared about 40 machines. The sole preserved copy is exposed in the automobile division of Polytechnic museum (Moscow).
Photos: Y. Povolotskiy
Text: L. Shugurov
© "Planet", 1988