«Matis-OMI-9» (France 1927 )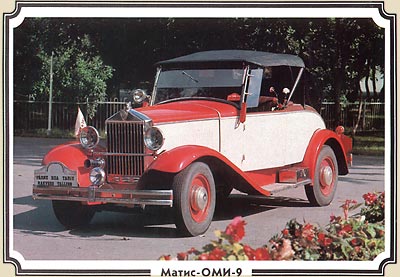 One of nine models, which were being let out by plant "Matis" into the 20's. Construction - traditional for the automobiles the 20's.
Engine:
4-cylinder
Working volume:
1452 cm
3
Power:
18 hp
Distance between axises:
2650 mm
Mass:
1150 kg
Speed:
80 km/h
Body:
two-place, type "rodster" prepared by the specialized body firm "Schosson". Automobiles "Matis" are encountered very rarely even in the museums of France. A name of designer and a quantity of prepared machines are not established. Keeper and restorer of machine - A. Young, the member of club "Unik" (Pyarnu).
Photos: Y. Povolotskiy
Text: L. Shugurov
© "Planet", 1988