«GAZ-A» (———– 1932 )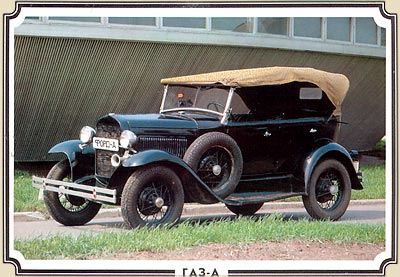 First passenger model of Gorkiy motor vehicle plant for the license of firm "Ford". The feature Of design: the suspension of wheels on the transverse springs, fuel gravity supply, the uncontrolled valves of engine. Machine was produced up to 1936.
Engine:
4-cylinders
Working volume:
3285 cm
3
Power:
40 hp
Distance between axises:
2630 mm
Mass:
1080 kg
Speed:
90 km/h
Body of the type "phaeton"
In five years are prepared 41 917 machines of this model. The represented copy is exposed in the museum of AZLK - AUTOMOBILE PLANT IM. LENIN KOMSOMOL.
Photos: Y. Povolotskiy
Text: L. Shugurov
© "Planet", 1988