«GAZ-51» (Russia 1946-1976)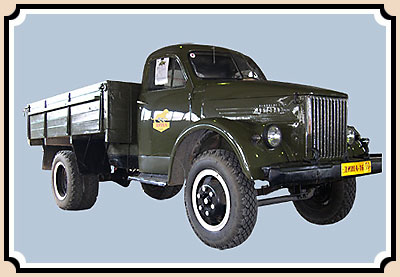 Number of places:
2
Speed the km/h:
70
Mass in the equipped state, kg:
2710
Size of the tires:
7,25-20
Engine is the type:
six-cylinder, carburetor, lower-valve. 70 hp with 2800 r/min
The working volume:
3458 sme
Number of transfers:
8
Length in the mm.:
5525
Width in the mm.:
2200
Height mm:
2130
The wheel base:
3300
Wheel formula:
yakh2
Load capacity in the kg.:
2500
Greatest mass truck OF THE USSR. The models, released up to 1955, were characterized by the form of cab, external fuel tank, wheels (on the early modification - 2 windows), absence of heater, rectangular combination of instruments, disk transmission brake. On the base GAZ-51 were produced the number of special machines, the sanitary bus, different types of vans. Machine served as base for the all-wheel-drive modification - GAZ-63.
© firm "Dina", www.firma-dina.ru