«GAZ-21 (Volga)» (Russia 1956-1970)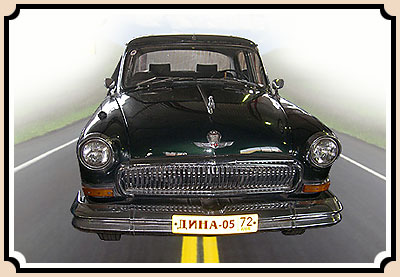 Number of places:
5
Speed the km/h:
130
Mass in the equipped state, kg:
1460
Size of the tires:
6,70-15
Engine is the type:
four-cylinder, carburetor, lower-valve. 75 hp with 4000 r/min
The working volume:
2445 sme
Consumption of fuel of l/100 the km
: 13
Length in the mm.:
4810
Width in the mm.:
1800
Height mm:
1620
The wheel base:
2700
For the first time, in the domestic automobile construction, had engine with the aluminum block and the wet cases, suspension pedals, lamps of backward motion. the "Volga" let out with the bodies "sedan", "specialist" (GAS -22), also, for the medical service (GAS - 22B, GAS - 22D). The party of machines with hydromechanical KPP was released.
© firm "Dina", www.firma-dina.ru