«Ford-T» (USA 1920 )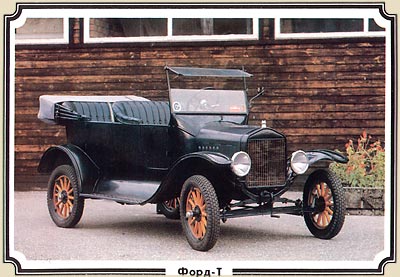 Model of the brand, which was being let out from 1908 through 1927. The feature Of design: separate cylinder head (one of the first in the world constructions), planetary gearbox, gearshift by pedal.
Engine:
4-cylinder
Working volume:
2893 cm
3
Power:
22 hp
Gearbox:
2
Distance between axises:
2540 mm
Mass:
780 kg
Speed:
65 km/h
Body:
four-place
Type:
"torpedo"
Designer:
G. Wills.
Are prepared 15 175 868 machines. Machine it restored and preserves I. Site, the term of club "Unik" (Tartu).
Photos: Y. Povolotskiy
Text: L. Shugurov
© "Planet", 1988