«Duks-K24/2» (Germany 1910)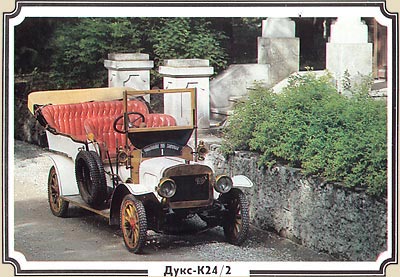 Automobile was produced by the plant of musical tools and of typewriters "poly-von" from 1909 through 1911. The feature Of design: the thermo-syphon system of water cooling, nondetachable wooden wheels.
Engine:
4-cylinder
Working volume:
2360 cm
3
Power:
24 hp
Gearbox:
3
Speed:
65 km/h
Body:
pyatimestnyy
Type:
"phaeton"
Designer:
G. Shyurmani
There are no data about the scales of output. Restorer and keeper of machine - H. Talmar, the member of club "Unik" (Pyarnu).
Photos: Y. Povolotskiy
Text: L. Shugurov
© "Planet", 1988