«Dixi DA1» (Germany 1929 )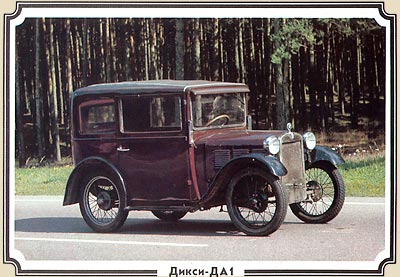 This model was produced by the plant Of "diksi" on the license of firm "Austin" from 1921 through 1929. The feature Of design: double-seat crankshaft, the independent suspension of front wheels (on the late modifications).
Engine:
4-cylinder
Working volume:
748 cm
3
Power:
15 hp
Gearbox:
3
Distance between axises:
1900 mm
Mass:
535 kg
Speed:
75 km/h
Body with two adult and two children's places of the type of sleeping compartment.
Designer:
G. Ostin.
Are prepared 9408 machines of this model. Restorer and the keeper of machine - D. Orleane, the member of club AAK (Riga).
Photos: Y. Povolotskiy
Text: L. Shugurov
© "Planet", 1988