«Berliet-BRL» (France 1924 )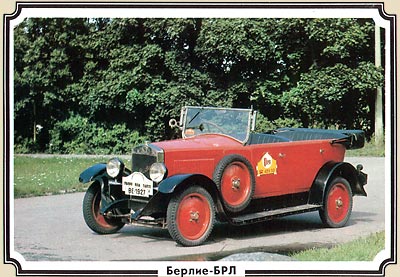 Small-capacity model was produced from 1922 through 1929. The feature Of design: brake to all wheels, gearbox with the lever in the ball wings.
Engine:
4-cylinder
Working volume:
1160 cm
3
Power:
16 hp
Distance between axises:
2800 mm
Mass:
850 kg
Speed:
90 km/h
Body:
four-place
Type:
"torpedo"
A name of designer and a quantity of produced machines are not established. Restorer and keeper of machine - G. Laur, the member of club "Unik" (Kunda).
Photos: Y. Povolotskiy
Text: L. Shugurov
© "Planet", 1988