«Babe-Peugeat» (France 1913 )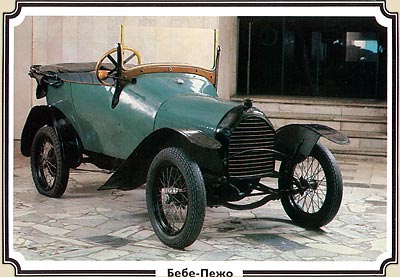 One of first and most popular in the world malolitrazhek, which was being let out by plant "Peugeat" from 1912 through 1915.
Engine:
4-cylinder
Working volume:
856 cm
3
Power:
10 hp
Gearbox:
3
Distance between axises:
2250 mm
Mass:
400 kg
Speed:
65 km/h
Body:
two-place
Designer:
A. Bugatti
Are prepared 3095 pieces. Machine is restored By A. Khlupnov, member of club SAMS, (Moscow). Automobile is delivered to the state calculation of the monuments of culture and is exposed in the Polytechnic museum.
Photos: Y. Povolotskiy
Text: L. Shugurov
© "Planet", 1988