«AMO-F15» (———– 1927 )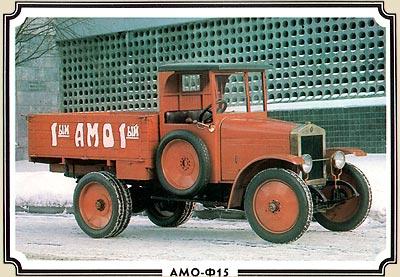 First Soviet model of truck. The feature Of design: the flywheel of engine, which is been fan, multiple-plate cohesion, the introduced since 1927 cab with the rigid by roof and walls.
Engine:
4-cylinder
Working volume:
4396 cm
3
Power:
35 hp
Gearbox:
3
Distance between axises:
3070
Mass:
1900 kg
Speed:
is 42 km h
Load capacity:
1500 kg
Designer:
V. Tsipulin
More than 6000 machines are prepared from 1924 through 1930. One of four preserved to the present copies Amo-f15 is restored and is stored at the plant ZIL (former AMO).
Photos: Y. Povolotskiy
Text: L. Shugurov
© "Planet", 1988