«Amilkar-CGSS» (France 1924 )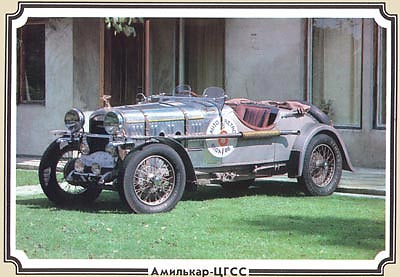 The designation of model reflects its origin. On the basis of base model "C" (i.e., "ciklokara" - supersmall automobile) was created sport modification is "Gran sport" (hence - GS), and then its lower variety - "Surbasse" (thus it were added letter S).
Engine:
4-cylinder
Working volume:
1074 cm
3
Power:
33 hp
Gearbox:
3
Distance between axises:
2235 mm
Mass:
580 kg
Speed:
130 km/h
Body:
two-place
Type:
"rodster"
Designers:
A. Moye and A. Morel
Are prepared 4700 machines of models TSGS and TSGSS. Only automobile of this model preserved in our country is restored By A. Leybovichem, member of club AAK (Riga).
Photos: Y. Povolotskiy
Text: L. Shugurov
© "Planet", 1988